Fix Cydia Impactor No Device Found
With the revolution of technology in the smartphone industry now there are many ways to install apps with the use of APK files without using play store or app store. Cydia Impactor is such a tool which the users can directly install from the website.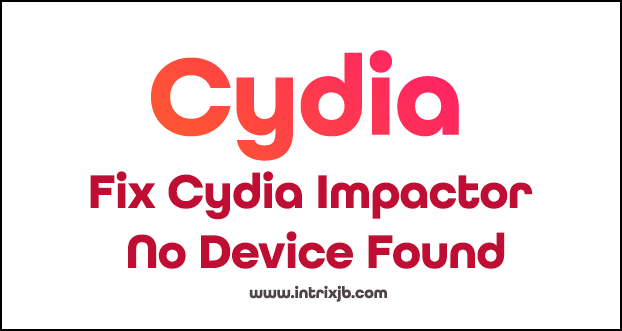 Cydia Impactor is a GUI (Graphical User Interface) tool developed by Saurik to install iOS and APK files. This is a third party platform available for major computer operating systems; Windows, Mac and Linux. 
Users can face different issues while using Cydia Impactor. One of the most reported problems is that Cydia Impactor is not detecting their devices or that it is blank. So here is a brief explanation about that issue and solutions that can be taken to fix it.
Why is Cydia Impactor not detecting your device?
First we must consider the reason for this error. As the Cydia Impactor is most probably working well and the error must be related to your personal computer as chances for troubleshooting in the computer is high in this issue. 
There can be a certain number of reasons behind this error. The main reason can be that iTunes isn't installed properly or havn't installed at all on your computer. Else the device may not properly connect to your personal computer. Moreover the reason can be that iTunes can not recognise the device connected. 
Read more articles..
Cydia Impactor Mac | Reddit | Sources
So here are some steps to follow to fix these problems regarding Cydia Impactor.
Method 1: Check the USB port. For this plug your device to the computer and see whether the device starts charging if still it doesn't recognize, try another USB port.
Method 2: You can also try by uninstalling and reinstalling iTunes to fix the problem. For this first uninstall iTunes, Apple Mobile Device Support and Apple Application support. Then restart your pc. After that reinstall iTunes and restart your pc. Then check whether your device is detecting now.
Method 3: Users must also consider the USB cable, make sure that you are using an Apple certified USB connector.
Method 4: You must stay updated to use the latest version of Cydia Impactor as always the latest versions fix errors. You can download the latest version using the website.
Method 5: This fact may be surprising for you but just switching your personal computer may also fix the error. So give it a try and see whether it's working. 
Above are the most reported errors and the easiest ways to fix those errors. Moreover there can be many complicated errors even. Those errors can be fixed according to the operating system of the user. 
Feel free to use Cydia Impactor to install IPA files on iOS and APK files as it is a smart, multifunctional tool that is absolutely free and efficient. Furthermore Cydia Impactor is safe to use and it has gathered considerable attention by the iOS users worldwide.